Browsing the Events category...
Strapped for time? Didn't get into Photoshop in time? Try this poster idea out:
Fuck-the-TPPA-V2 (PDF)
I'm sure one day we'll love TPPA, but until that day, we have this poster! Exacto.
First Friday of Every Month at 4:20pm
**UPDATE** February event: facebook.com/events/508247816002388
Except for this first event, which is on 8 January.
Facebook Event Page: facebook.com/events/1642577935959707
Friday, 8 January 2016 from 4:20pm until approximately 6pm
Albert Park Band Rotunda
(near Princes Street map)
Like a J Day that happens every month! The basic concept: bring some weed, musical instruments, posters, and things related to cannabis for a jam, smoking session, and general open discussion to promote the legalisation, taxation and regulation of our holy sacramental herb mother 'tiva!
Future events to be held on the first Friday of every month at 4:20pm starting out with this one (and Friday 5th February) in the Band Rotunda at Albert Park but potentially moving to a larger park if or once it gets bigger!
http://www.legalise.org.nz/
———————————–
It is not our fault the government has been slow to consider taxation of such a universally useful plant and that a "farmers market" of ganja would be a useful resource for discovering and trying new strains and flavours.
2016 Protest Calendar
Friday 8 January
Friday 5 February
Friday 4 March
Friday 1 April (April Fools Day!)
Friday 6 May
Friday 3 June
Friday 1 July
Friday 5 August
Friday 2 September
Friday 7 October
Friday 4 November
Friday 2 December
Just thought I'd carry the story as well…
Come to J Day, an international day celebrating our cannabis culture and a protest against the failed War on Drugs.
All events are free, starting at High Noon and run to 4:20pm or so.
Auckland – Albert Park. Features music and speakers, on the mighty JAFA Mafia sound system, plus market stalls and information booths.
Hamilton – Riff Raff Statue, Victoria St
Tauranga – Yatton Park
Whakatane – Historic Reserve
Taupo – The Black Shed, 10 Miro St.
Hastings – ANZAC Memorial, by the Library
New Plymouth – Bowl of Brooklands
Wellington – Frank Kitts Park
Christchurch – Cathedral Sq then 'roll and stroll' to Latimer Sq
Dunedin – The Octagon
About J Day:
Are you one of NZ's half-million pot smokers, or do you know one of them? Most Kiwis support cannabis law reform. It's time to demand change! J Day is a celebration/protest – held every year since 1992 – in support of NORML's three campaign goals:
A health issue, not a crime: Cannabis consumers and producers should not be criminals. Concentrate resources on problematic abuse. Let the police focus on crime that matters.
Safe legal access to medical cannabis: Medicinal cannabis is allowed in 23 states in the USA, Israel, Netherlands, Spain, Canada etc. Why not here?
Regulate cannabis, the safer choice: Low-risk drugs like cannabis should be regulated via an adults-only, taxable market similar to that in 5 US states, Uruguay and the Netherlands, or the way alcohol is regulated here. There would be no market for synthetic alternatives if natural cannabis were legal.
How you can help:
Come to J Day a celebration of cannabis culture with free events nationwide. Dress to impress. R18.
Promote our 3 key campaign themes (above)
Write or visit your MP – it does make a difference
Like us on facebook (normlnz) and follow us on twitter (normlnz)
Donate to NORML NZ Inc: 12-3057-0594667-00
Contact us at [email protected]
Note: J Day is R18, for adults only. No alcohol. No glass. No dogs. Please take your rubbish with you.
Big Thanks to our fellow organisers and sponsors: Green Cross, ALCP, Dunedin NORML, CLEAR, The Hempstore
NORML presents the 21st Annual J Day – Sat 4 May, 2013
For the 21st year NORML presents J Day: Saturday May 4th, 2013, from high noon.
J Day 2013 – A4 poster
Auckland – Albert Park (in association with Jafa Mafia and The Hempstore)

Stage timetable:
11am WrongWay Ray
11.30 J Red
12. Rich Gilbert
12.30 Lowe 1
13.00 Azbo
13.30 Kola (Drunk Elelephant)
14.00 Fj (Jugglin Crew)
14.30 DJ Exile + MC Projectile
15.00 Issa
15.30 DJ Locksteady
16:00 BULLETPROOF & DUTTY RANX
16.30 Jafa Mafia till close
Plus 200 more cities all around the world, all calling for an end to cannabis prohibition!
Come along and show your support for NORML's three campaign goals:
Treat cannabis as a health issue, not a crime
Safe, legal access for medicinal cannabis patiens
A regulated, taxable market for cannabis and other low risk drugs
J Day features music, stalls and a positive vibe. No alcohol or dogs please. Strictly R18. Stallholders – see our contact page.
New Zealand has the highest arrest and incarceration rate of cannabis users in the world. Yet many of those arrested are young people possessing small amounts for personal use. Is personal use of cannabis really a 'crime'? And wouldn't Police time be better spent focusing on more serious matters?
Today, Stephen McIntyre hung himself with a rope, because the Police raided The Auckland Greencross, and then had him up in the courts for opening NZ's  first non-profit charitable trust authorized by the NZ government to help patients to obtain cannabis for medicine. Cannabis a natural plant, used as medicine in Israel for 19 years, U.S.A for 16 years and mentioned in every pharmacological text produced in the past 2,000 years and scientifically proven for many treatments.
Perhaps New Zealand would have a lower suicide rate if cannabis was legalised / de-criminalised? I think so.
"New Zealand has lost a peaceful and gentle man who advocated quietly for the sort of reforms that have halved the number of drug users in Portugal over the last decade," said Dr McGrath, who works at two alcohol and drug clinics in the lower North Island.
 More info about Stephen McIntyre:
http://www.scoop.co.nz/stories/PO1109/S00134/government-pays-lip-service-to-needs-of-medical-cannabis.htm
http://www.scoop.co.nz/stories/PO1005/S00243.htm
http://www.scoop.co.nz/stories/PO1011/S00291/new-leadership-for-cannabis-law-reform-campaign.htm
Obituary: http://notices.nzherald.co.nz/obituaries/nzherald-nz/obituary.aspx?n=stephen-lindsay-mcintyre&pid=158712377&fhid=12549
Stephen Lindsay McINTYRE Obituary Guest Book Currently, the Guest Book for Stephen Lindsay McINTYRE is available for viewing, but not accepting entries until Wednesday, 25 July 2012. View McINTYRE, Stephen Lindsay. On 22 July, 2012 suddenly at home; in his 48th year. Dearly loved husband of Reiko, loved father of Terumi and Takumi, loved son of Lillias and William McIntyre, brother of Ken, Stuart, Bruce, and Lorraine, uncle to his many nieces and nephews. A Service will be held at 85 Grafton Road, Grafton, Auckland on Friday 27 July at 1.30pm. Battersby Funeral Services Ltd Ph 09-828-5113 Published in The New Zealand Herald on July 24, 2012
Miscellaneous:
Shame on you Peter Dunne, you are creating more pain in the world: http://www.libertarianz.org.nz/libz-appalled-by-death-of-stephen-mcintyre/
Overcrowded prisons and high suicide rate: http://tumeke.blogspot.co.nz/2012/08/beasts-from-blenheim-and-creatures-from.html
Get your mates together and come support the NZ theatrical release of Smokescreen, a brazilian made documentary about drug prohibition around the world and in Brazil. This screening in NZ is part of the ReelBrazil film festival. For more details please see the official Smokescreen page on ReelBrazil. You can get tickets to the Wellington screenings here, however, when I checked on the Rialto site, it was not possible to get tickets on what is as far as I could tell the Smokescreen page on Rialto.
Smokescreen raises the subject of drug policies in effect worldwide, focusing on their social and political implications in countries such as Brazil, England, Spain, Holland, Switzerland, Argentina and the US. Its premise is a rethink of countries' prohibitionist drug policies. The confronting documentary discusses some of the consequences of such drug laws, such as violence and corruption, reaching unacceptable levels.

Through interviews in Brazil and abroad with physicians, researchers, leaders, policemen and representatives of civil movements, the filmmaker and journalist Rodrigo Mac Niven introduces a new vision of the early 21st century. It is a documentary that questions prohibition, and discusses the complexities of a taboo subject with honesty and transparency.
Screening times:
Friday 23 September 6:30pm Wellington Paramount Theatre
Sunday 25 September 3:00pm Wellington Paramount Theatre
Tuesday 27 September 6:30pm Wellington Paramount Theatre
Friday 28 October 6:30pm Auckland Rialto Cinemas Newmarket
Sunday 30 October 3:00pm Auckland Rialto Cinemas Newmarket
Tuesday 01 November 6:30pm Auckland Rialto Cinemas Newmarket
Here are some pics from around the 'net collected together from the J Day Auckland 2011 event, which was fantastic. Please send yours in, I can blur any faces if required before upload.
This first one is arguably the best and captures the shot I was hoping to find from the day. Thanks to Gonzo. It was exciting to be part of such a large 4:20 smoking celebration, definitely I have not seen that much being smoked in one place, this even beats the Sly and Robbie concert.
From infonews: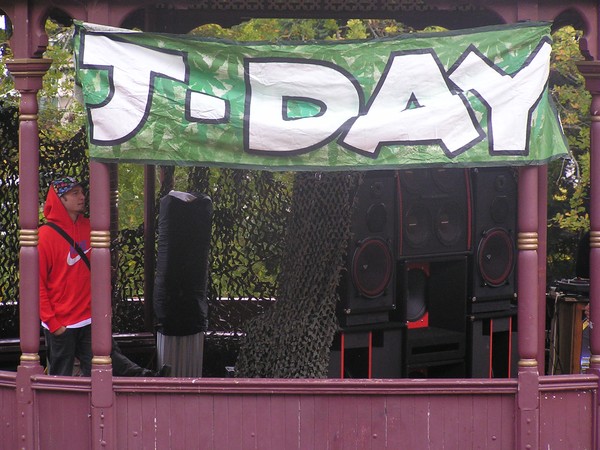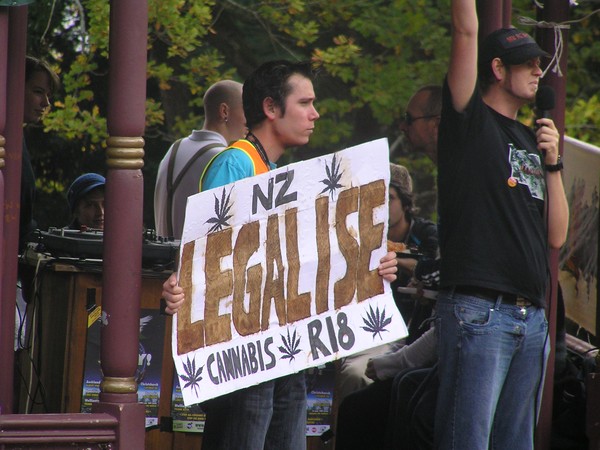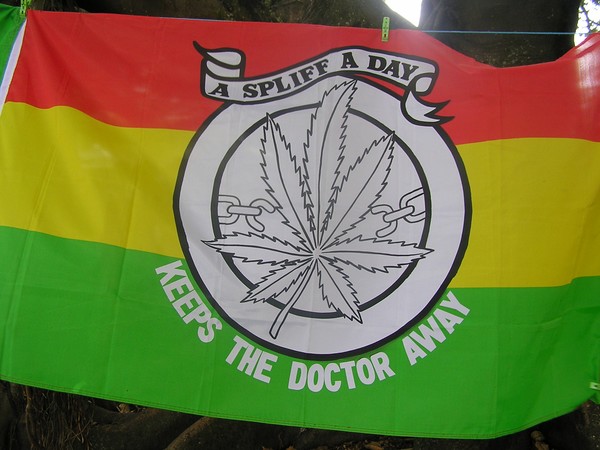 Saturday 7 May – 1p2m – 4:30pm
J Day 2011 (NZ)

UPDATE: Dam Native have been confirmed to play at the official J Day Auckland after party at Kings Arms from 7pm!
This is happening in: Auckland, Hamilton, Tauranga, New Plymouth, Hastings, Wellington, Christchurch, Dunedin, Invercargill
NORML presents J Day, the international day of cannabis liberation!
Free events (R18) are happening in:
Auckland – Albert Park
Hamilton – Lake stage
Tauranga – venue TBC
Hastings – Library steps
New Plymouth – Puke Ariki landing
Wellington – Frank Kitts
Christchurch – New Brighton (by pier)
Dunedin – The Octagon
Invercargill – venue TBC
All events start at high noon and go til about 4:20.
Strictly R18 – No alcohol – No dogs – Good times!
What J Day is about:
J Day is an international celebration of the cannabis culture and protest against prohibition, now happening in over 200 cities around the world, on the first Saturday in May every year.
Most J Day events feature music from supportive bands and DJs, guest speakers, market stalls, cannabis information and activation. But entertainment is not really the point: come to J Day to show your support for sensible drug law reform.
J Day is a positive, happy, celebration.
How you can help:
– dress to impress
– don't bring any alcohol or dogs
– bring placards & signs
– wear your fave pot t shirt or badge
– learn your Civil Rights before you go (see http://norml.org.nz/topic7.html)
– help spread the word
– help us put up posters and distribute fliers
– call gig guides & talkback radio
– help us find food & market stalls
– help us clean up after the event
Thanks to all our helpers, supporters, musicians, stall operators, and our sponsors:
The Hempstore
Space V2
The Daktory
Aotearoa Legalise Cannabis Party (ALCP)